Hog Heaven John 17:6-19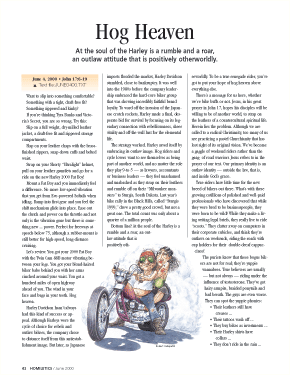 At the soul of the Harley is a rumble and a roar, an outlaw attitude that is positively otherworldly.
Want to slip into something comfortable?

Something with a tight, draft-free fit?

Something zippered and kinky?

If you're thinking Tyra Banks and Victoria's Secret, you are so wrong. Try this:

Slip on a full weight, dry-milled leather jacket, a draft-free fit and zippered storage compartments.

Slap on your leather chaps with the brass-finished zippers, snap-down cuffs and belted waist.

Strap on your Shorty "Ultralight" helmet, pull on your leather gauntlets and go for a ride on the new Harley 2000 Fat Boy!

Mount a Fat Boy and you immediately feel a difference. No more low-speed vibration that you get from Evo-powered Softails when idling. Ramp into first gear and you feel the shift mechanism glide into place. Ease out the clutch and power on the throttle and not only is the vibration gone but there is something new ... power. Perfect for freeways at speeds below 75, although a rubber-mount is still better for high-speed, long-distance cruising.

Let's review. You got your 2000 Fat Boy...
Start your risk free trial to view the entire installment!
START YOUR RISK-FREE TRIAL
---