Spa Christianity Ephesians 3:14-21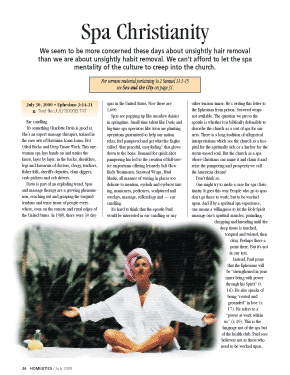 We seem to be more concerned these days about unsightly hair removal than we are about unsightly habit removal. We can''t afford to let the spa mentality of the culture to creep into the church.
Ear candling.

It's something Charlotte Davis is good at. She's an expert massage therapist, trained in the rare arts of Hawaiian Loma Loma, Hot Oiled Rocks and Deep Tissue Work. This one-woman spa lays hands on and unties the knots, layer by layer, in the backs, shoulders, legs and forearms of doctors, clergy, teachers, fisher folk, sheriff's deputies, clam diggers, crab pickers and cab drivers.

Davis is part of an exploding trend. Spas and massage therapy are a growing phenomenon, reaching out and grasping the torqued tendons and tense tissue of people everywhere, even on the remote and rural edges of the United States. In 1989, there were 30 day-spas in the United States. Now there are 1,600.

Spas are popping up like meadow daisies in springtime. Small-time talent like Davis and big-time spa operators like Avon are planting operations guaranteed to help our nation relax, feel pampered and get what the Eagles called "that peaceful, easy feeling" that glows down to the bone. Demand...
Start your risk free trial to view the entire installment!
START YOUR RISK-FREE TRIAL
---