Go BASE! Ephesians 1:3-14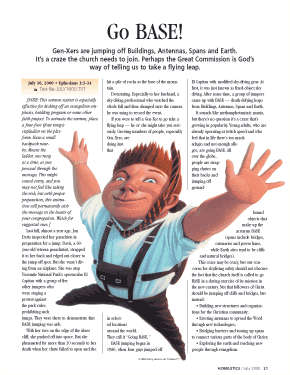 Gen-Xers are jumping off Buildings, Antennas, Spans and Earth. It''s a craze the church needs to join. Perhaps the Great Commission is God''s way of telling us to take a flying leap.
[NOTE: This sermon starter is especially effective for kicking off an evangelism emphasis, building program or some other faith project. To animate the sermon, place a four-foot (four rungs) stepladder on the platform. Have a small backpack nearby. Mount the ladder, one rung at a time, as you proceed through the message. This might sound corny, and you may not feel like taking the risk, but with proper preparation, this animation will permanently etch the message in the hearts of your congregation. Watch for suggested cues.]

Last fall, almost a year ago, Jan Davis inspected her parachute in preparation for a jump. Davis, a 60-year-old veteran parachutist, strapped it to her back and edged out closer to the jump-off spot. But she wasn't diving from an airplane. She was atop Yosemite National Park's spectacular El Capitan with a group of five other jumpers who were staging a protest against the park rules prohibiting such jumps. They were there to demonstrate that BASE jumping was...
Start your risk free trial to view the entire installment!
START YOUR RISK-FREE TRIAL
---