No Rules! Romans 8:1-11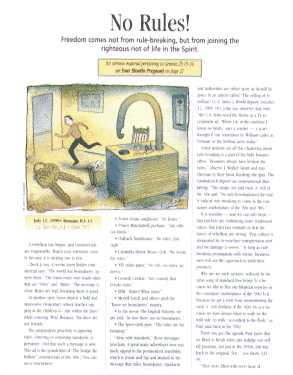 Freedom comes not from rule-breaking, but from joining the righteous riot of life in the Spirit.
A rebellion has begun, and commercials are responsible. Watch your television closely, because it is inciting you to riot.

Check it out. A recent Isuzu Rodeo commercial says: "The world has boundaries. Ignore them." The Isuzu roars over roads signs that say "Obey" and "Rules." The message is clear: Rules are bad; breaking them is good.

In another spot, Isuzu depicts a bald and oppressive elementary school teacher yapping at the children to "stay within the lines" while coloring. Why? Because "the lines are our friends."

The postmodern proclivity to ignoring rules, lowering or removing standards, is pervasive. (Not that such a message is new. This ad is the grandchild of "The Dodge Rebellion" commercials of the '60s.) You can see it everywhere:

* Foster Grant sunglasses: "No limits."

* Prince Matchabelli perfume: "Life without limits."

* Outback Steakhouse: "No rules. Just right."

* Columbia House Music Club: "We broke the rules."

* NFL video game: "No refs, no rules, no...
Start your risk free trial to view the entire installment!
START YOUR RISK-FREE TRIAL
---