Holiness in the Huddle Mark 1:21-28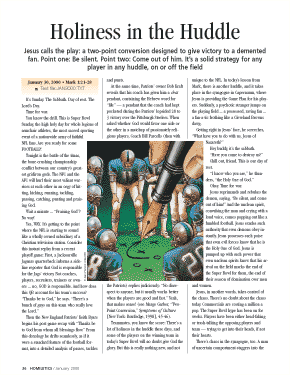 Jesus calls the play: a two-point conversion designed to give victory to a demented fan. Point one: Be silent. Point two: Come out of him. It's a solid strategy for any player in any huddle, on or off the field.


It's Sunday. The Sabbath. Day of rest. The Lord's Day.

Time for war.

You know the drill. This is Super Bowl Sunday, the high holy day for whole legions of armchair athletes, the most sacred sporting event of a nationwide army of faithful NFL fans. Are you ready for some FOOTBALL?!

Tonight is the battle of the titans, the bone-crushing championship conflict between our country's greatest gridiron gods. The NFC and the AFC will hurl their most valiant warriors at each other in an orgy of hitting, kicking, running, tackling, passing, catching, punting and praising God.

Wait a minute ... "Praising God"? No way!

Yes, WAY. It's getting to the point where the NFL is starting to sound like a wholly owned subsidiary of a Christian television station. Consider this instant replay from a recent playoff game: First, a Jacksonville Jaguars quarterback informs a sideline reporter that God is responsible for the Jags' victory. Not coaches, players, recruiters, trainers or owners ... no, GOD is...
Start your risk free trial to view the entire installment!
START YOUR RISK-FREE TRIAL
---