Hear the Vision? 1 Samuel 3:1-10 (11-20)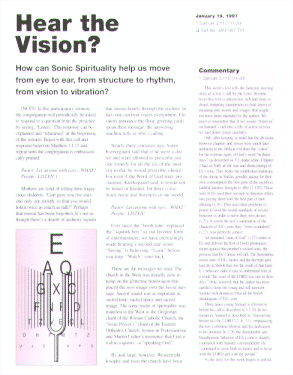 How can Sonic Spirituality help us move from eye to ear, from structure to rhythm, from vision to vibration?



[NOTE: In this participatory sermon, the congregation will periodically be asked to respond to a question from the preacher by saying, "Listen." This response can be explained and "rehearsed" at the beginning of the sermon. Begin with this call and response based on Matthew 11:15 and repeat until the congregation is enthusiastically primed:

PASTOR: Let anyone with ears. . . WHAT?
PEOPLE: LISTEN!]

Mothers are fond of telling their loquacious children: "God gave you two ears and only one mouth, so that you would listen twice as much as talk!" Perhaps that truism has been forgotten. It's not as though there's a dearth of auditory signals that stream hourly through the cochlea. In fact, one can hear voices everywhere. Elevators announce the floor; greeting cards speak their message; the answering machine tells us who's calling.

Nearly three centuries ago, Soren Kierkegaard said that if he were a doctor and were allowed to prescribe just one remedy for all the ills of the modern world,...
Start your risk free trial to view the entire installment!
START YOUR RISK-FREE TRIAL
---