Wise Guys 1 Corinthians 2:1-12 (13-16)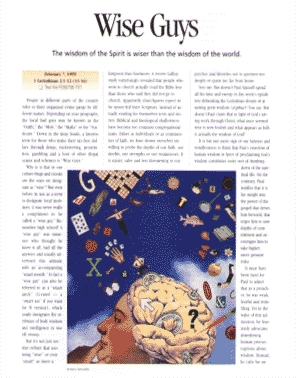 The wisdom of the Spirit is wiser than the wisdom of the world.
People in different parts of the country refer to their organized crime gangs by different names. Depending on your geography, the local bad guys may be known as the "Outfit," the "Mob," the "Mafia" or the "Syndicate." Down in the deep South, a favorite term for those who make their tax-free dollars through drugs, racketeering, prostitution, gambling and a host of other illegal scams and schemes is "Wise Guys."

Why is it that in our culture thugs and crooks are the ones we designate as "wise"? But even before its use as a term to designate local mobsters, it was never really a compliment to be called a "wise guy." Remember high school? A "wise guy" was someone who thought he knew it all, had all the answers and usually advertised this attitude with an accompanying "smart mouth." In fact a "wise guy" can also be referred to as a "smart aleck" (G-rated — a "smart ass" if you want the R version), which neatly denigrates the attributes of both wisdom and intelligence in one fell...
Start your risk free trial to view the entire installment!
START YOUR RISK-FREE TRIAL
---