The Mulligan Moment Mark 1:29-39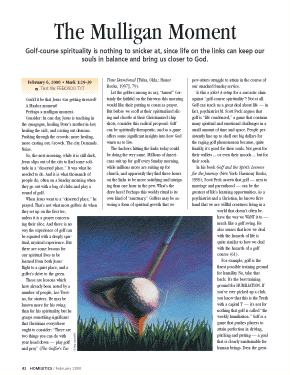 Golf-course spirituality is nothing to snicker at, since life on the links can keep our souls in balance and bring us closer to God.


Could it be that Jesus was getting stressed?

A Maalox moment?

Perhaps a mulligan moment.

Consider: In one day, Jesus is teaching in the synagogue, healing Peter's mother-in-law, healing the sick, and casting out demons. Pushing through the crowds; more healing, more casting out. Crowds. The city. Demands. Noise.

So, the next morning, while it is still dark, Jesus slips out of the city to find some solitude in a "deserted place."It was what he needed to do. And it is what thousands of people do, often on a Sunday morning when they go out with a bag of clubs and play a round of golf.

When Jesus went to a "deserted place,"he prayed. That's not what most golfers do when they set up on the first tee, unless it is a prayer concerning their slice. And there is no way the experience of golf can be equated with a deeply spiritual, mystical experience. But there are some lessons for our spiritual lives to be learned from both Jesus' flight to a quiet place, and a golfer's drive to the...
Start your risk free trial to view the entire installment!
START YOUR RISK-FREE TRIAL
---