Come Children, Die Isaiah 12:2-6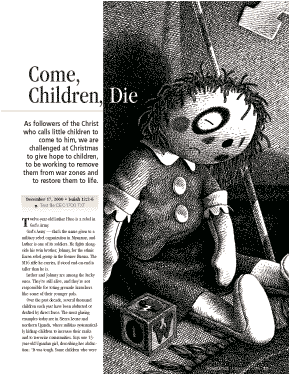 As followers of the Christ who calls little children to come to him, we are challenged at Christmas to give hope to children by working to remove them from war zones, and restore them to life.
WAR HARMS EVERYONE, ESPECIALLY CHILDREN.
Armed conflicts are a global scourge with devastating effects on children. Estimated numbers of child victims of armed conflicts during the past decade: Killed: 2 million Disabled: 4-5 million. Left homeless: 12 million. Orphaned or separated from their families: more than 1 million. Psychologically traumatized: some 10 million.

CHILD SOLDIERS
In recent years, in some 25 countries, thousands of children under age 16 have fought in wars. In 1998 alone, there were as many as 300,000 child combatants.

REFUGEES AND DISPLACED POPULATIONS
In 1995, 53 million people -- one out of every 115 people on earth -- were uprooted from their homes, either displaced within their countries or refugees across borders. Women and children usually comprise 80 percent of the refugee and displaced populations. Up to 5 percent of refugee populations -- often more in cases of panic evacuation -- are children separated from their families.

CHILDREN'S...
Start your risk free trial to view the entire installment!
START YOUR RISK-FREE TRIAL
---