Dry-Stone Church Philippians 1:3-11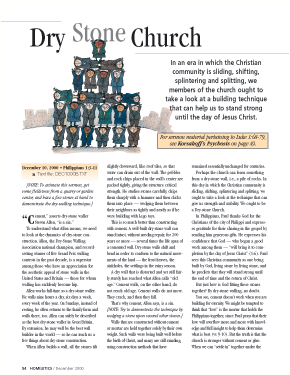 In an era in which the Christian community is sliding, shifting, splintering and splitting, we members of the church ought to take a look at a building technique that can help us to stand strong until the day of Jesus Christ.



[NOTE: To animate this sermon, get some fieldstone from a quarry or garden center, and have a few stones at hand to demonstrate the dry walling technique.]

"Cement," asserts dry-stone waller Steven Allen, "is a sin."

To understand what Allen means, we need to look at the dynamics of dry-stone construction. Allen, the Dry-Stone Walling Association national champion, and record-setting winner of five Grand Prix walling contests in the past decade, is a superstar among those who have an appreciation for the aesthetic appeal of stone walls in the United States and Britain -- those for whom walling has suddenly become hip.

Allen works full-time as a dry-stone waller. He walls nine hours a day, six days a week, every week of the year. On Sundays, instead of resting, he often returns to the family farm and walls there, too. Allen can safely be described as the best dry-stone waller in Great Britain. By extension, he may well be the best wall-builder in the world -- so he can teach us...
Start your risk free trial to view the entire installment!
START YOUR RISK-FREE TRIAL
---