Ten Simple Ways to Add Years, Not Fears, to Your Life Hebrews 13:1-8, 15-16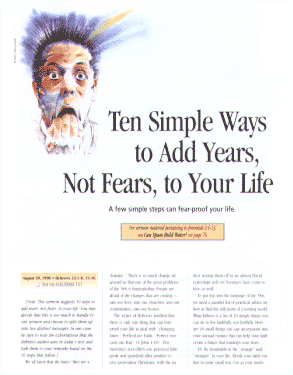 A few simple steps can fear-proof your life.
[Note: This sermon suggests 10 steps to add years, not fears, to your life. You may decide that this is too much to handle in one sermon and choose to split them up into two distinct messages. In any case, be sure to note the exhortations that the Hebrews author uses in today's text and link them to your remarks based on the 10 steps that follow.]

We all know that the times "they are a-changin'." There is so much change all around us that one of the great problems of the '90s is futurephobia: People are afraid of the changes that are coming -- into our lives, into our churches, into our communities, into our homes.

The writer of Hebrews testified that there is only one thing that can fear-proof your life to deal with "changing times:" PerfectLove Faith. "Perfect love casts out fear" (1 John 4:18). This morning's text offers one practical little guide and guardrail after another to next-generation Christians, with the author ticking them off in an almost David Letterman style we...
Start your risk free trial to view the entire installment!
START YOUR RISK-FREE TRIAL
---