God's in Charge (so shut up!) Ephesians 5:15-20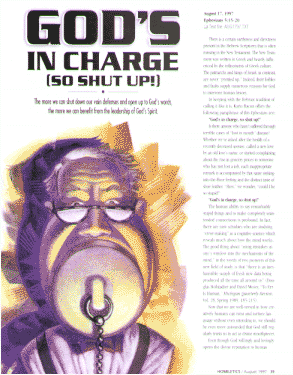 The more we can shut down our vain defenses and open up to God's words, the more we can benefit from the leadership of God's Spirit.

There is a certain earthiness and directness present in the Hebrew Scriptures that is often missing in the New Testament. The New Testament was written in Greek and heavily influenced by the refinements of Greek culture. The patriarchs and kings of Israel, in contrast, are never "prettied up." Indeed, their foibles and faults supply numerous reasons for God to intervene human history.

In keeping with the Hebraic tradition of calling it like it is, Karin Bacon offers the following paraphrase of this Ephesians text:

"God's in charge, so shut up!"

Is there anyone who hasn't suffered through terrible cases of "foot in mouth" disease? Whether we've asked after the health of a recently deceased spouse, called a new love by an old love's name, or started complaining about the rise in grocery prices to someone who has just lost a job, each inappropriate remark is accompanied by that same sinking-into-the-floor feeling and the distinct taste of shoe leather. "How," we wonder, "could I be ...
Start your risk free trial to view the entire installment!
START YOUR RISK-FREE TRIAL
---