Scream 3 Matthew 28:1-10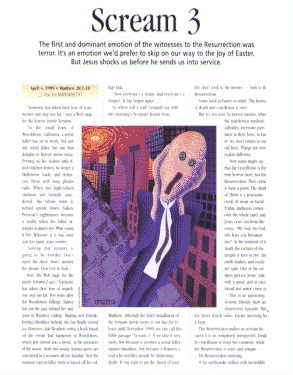 The first and dominant emotion of the witnesses to the Resurrection was terror. It's an emotion we'd prefer to skip on our way to the joy of Easter. But Jesus shocks us before he sends us into service.
"Someone has taken their love of scary movies one step too far," says a Web page for the horror movie Scream.

"In the small town of Woodsboro, California, a serial killer has set to work. Not just any serial killer, but one that delights in horror movie trivia. Preying on his victims with 8-inch kitchen knives, he wears a Halloween mask, and victimizes them with long phone calls. When two high-school students are brutally murdered, the whole town is turned upside down. Sidney Prescott's nightmares become a reality when the killer attempts to attack her. Who could it be? Whoever it is has seen one too many scary movies.

"Solving this mystery is going to be murder. Don't open the door. Don't answer the phone. Don't try to hide."

Next, the Web page for the movie Scream 2 says, "Someone has taken their love of sequels one step too far. Two years after the Woodsboro killings, Sidney has put the past behind her and gone to Windsor College. Making new friends, leaving Ghostface behind,...
Start your risk free trial to view the entire installment!
START YOUR RISK-FREE TRIAL
---