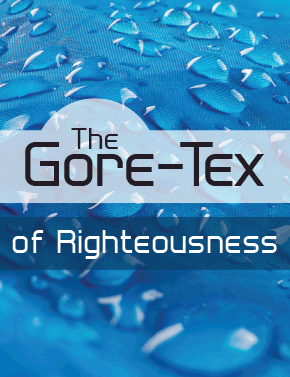 The Gore-Tex of Righteousness
Sunday, December 27, 2020
|
Isaiah 61:10-62:3
God offers us the garments of salvation and the robe of righteousness, but leaves it up to us whether to wear them.
Gore-Tex is a modern fabric with remarkable qualities. It sheds water and keeps wearers of Gore-Tex clothing from getting soaked by rain, but it also permits water vapor and heat to be expelled through it and thus keeps wearers from getting soaked by sweat.
The textile's ability to keep liquid water out but let water vapor through has to do with its porous nature and the size of those pores. A technician at Gore's lab explains it this way: "If a water vapor molecule is the size of a soccer ball, the pores are the size of a soccer stadium, and a raindrop is the size of the Earth."
Modern as it sounds, Gore-Tex was introduced more than 50 years ago and can't really be called "new." But it continues to be improved and garments made from it today do a better-than-ever job of protecting wearers from bad weather. And part of the reason for that is because Gore has a $5 million biophysics testing chamber at its Elkton, Maryland,...