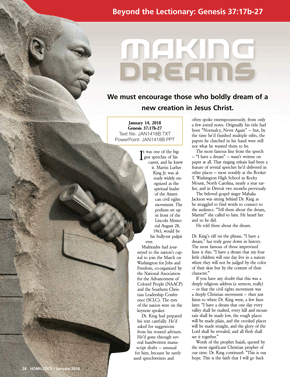 Making Dreams
Sunday, January 14, 2018
|
Genesis 37:17b-27
Beyond the Lectionary: Genesis 37:17b-27
In this BTL segment, we look at dream-making, and the particular dream of Martin Luther King Jr.


It was one of the biggest speeches of his career, and he knew it. Martin Luther King Jr. was already widely recognized as the spiritual leader of the American civil rights movement. The podium set up in front of the Lincoln Memorial August 28, 1963, would be his bully-est pulpit ever.

Multitudes had journeyed to the nation's capital to join the March on Washington for Jobs and Freedom, co-organized by the National Association for the Advancement of Colored People (NAACP) and the Southern Christian Leadership Conference (SCLC). The eyes of the nation were on the keynote speaker.

Dr. King had prepared his text carefully. He'd asked for suggestions from his trusted advisers. He'd gone through several handwritten manuscript drafts -- unusual for him, because he rarely used speechwriters and often spoke extemporaneously, from only a few jotted notes. Originally his title had been "Normalcy, Never Again" -- but, by the time he'd finished multiple edits, the papers he clutched in his hand...
---
Start today. Cancel anytime.
Act now and, for just $6.99 a month or $69.95 a year, you'll receive a full year of this valuable, sermon preparation resource.
Our convenient, continuous-subscription program ensures you'll never miss out on the inspiration you need, when you need it.
You're never obligated to continue. Naturally, you may cancel at any time for any reason, no questions asked.