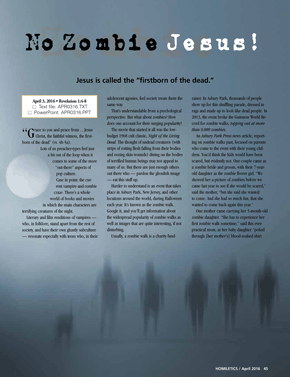 No Zombie Jesus
Sunday, April 3, 2016
|
Revelation 1:4-8
Zombie walks are becoming mainstream. Many cities have them, usually fundraisers for charity. Our text says that Jesus was the "firstborn of the dead." Wait, what?
"Grace to you and peace from ... Jesus Christ, the faithful witness, the firstborn of the dead" (vv. 4b-5a).

Lots of us preacher-types feel just a bit out of the loop when it comes to some of the more "out-there" aspects of pop culture.

Case in point: the current vampire-and-zombie craze. There's a whole world of books and movies in which the main characters are terrifying creatures of the night.

Literary and film renditions of vampires -- who, in folklore, stand apart from the rest of society, and have their own ghastly subculture -- resonate especially with teens who, in their adolescent agonies, feel society treats them the same way.

That's understandable from a psychological perspective. But what about zombies? How does one account for their surging popularity?

The movie that started it all was the low-budget 1968 cult classic, Night of the Living Dead. The thought of undead creatures (with strips of rotting flesh falling from their bodies and oozing skin-wounds) dining on the bodies...
---
Start today. Cancel anytime.
Act now and, for just $6.99 a month or $69.95 a year, you'll receive a full year of this valuable, sermon preparation resource.
Our convenient, continuous-subscription program ensures you'll never miss out on the inspiration you need, when you need it.
You're never obligated to continue. Naturally, you may cancel at any time for any reason, no questions asked.