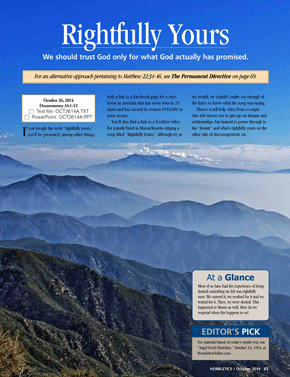 Rightfully Yours
Sunday, October 26, 2014
|
Deuteronomy 34:1-12
How do you respond when you are denied what is rightfully yours?
If you Google the term "rightfully yours," you'll be presented, among other things, with a link to a Facebook page for a racehorse in Australia that has seven wins in 23 starts and has earned its owners $555,601 in prize money.

You'll also find a link to a YouTube video for a punk band in Massachusetts singing a song titled "Rightfully Yours," although try as we would, we couldn't make out enough of the lyrics to know what the song was saying.

There's a self-help video from a couple who tell viewers not to give up on dreams and relationships, but instead to power through to the "beauty" and what's rightfully yours on the other side of discouragement, etc.

And, there's a website for an upcoming women's conference with the theme, "Assume that the place at that table is rightfully yours. Sit down and take it."

Not surprisingly, though, many more of the links take you to sites dealing with how to claim things you're entitled to. Some list certain benefits -- disability payments, child...
---
Start today. Cancel anytime.
Act now and, for just $6.99 a month or $69.95 a year, you'll receive a full year of this valuable, sermon preparation resource.
Our convenient, continuous-subscription program ensures you'll never miss out on the inspiration you need, when you need it.
You're never obligated to continue. Naturally, you may cancel at any time for any reason, no questions asked.