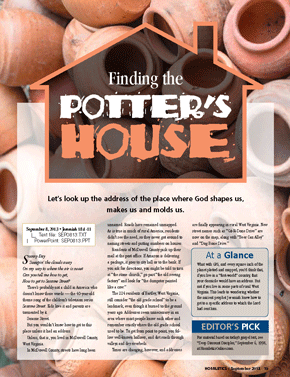 Finding the Potter's House
Sunday, September 8, 2013
|
Jeremiah 18:1-11
Jeremiah is asked to go to the potter's house. Did he know where this potter lived, or did he ask for directions?
Sunny Day
Sweepin' the clouds away
On my way to where the air is sweet
Can you tell me how to get,
How to get to Sesame Street?

There's probably not a child in America who doesn't know these words -- the 40-year-old theme song of the children's television series Sesame Street. Kids love it and parents are tormented by it.

Sesame Street.

But you wouldn't know how to get to this place unless it had an address.

Unless, that is, you lived in McDowell County, West Virginia.

In McDowell County, streets have long been unnamed. Roads have remained unmapped. As is true in much of rural America, residents didn't see the need, so they never got around to naming streets and putting numbers on houses.

Residents of McDowell County pick up their mail at the post office. If Amazon is delivering a package, it goes to city hall or to the bank. If you ask for directions, you might be told to turn at "the stone church," go past "the old sewing factory" and look for "the dumpster painted like a cow."

The 224...