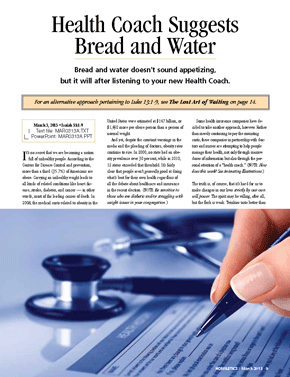 Health Coach Suggests Bread and Water
Sunday, March 3, 2013
|
Isaiah 55:1-9
To help keep down the rising costs of obesity and other medical problems, some insurance companies are offering health coaching.
It's no secret that we are becoming a nation full of unhealthy people. According to the Centers for Disease Control and prevention, more than a third (35.7%) of Americans are obese. Carrying an unhealthy weight leads to all kinds of related conditions like heart disease, stroke, diabetes, and cancer -- in other words, most of the leading causes of death. In 2008, the medical costs related to obesity in the United States were estimated at $147 billion, or $1,492 more per obese person than a person of normal weight.

And yet, despite the constant warnings in the media and the pleading of doctors, obesity rates continue to rise. In 2000, no state had an obesity prevalence over 30 percent, while in 2010, 12 states exceeded that threshold. It's fairly clear that people aren't generally good at doing what's best for their own health regardless of all the debate about healthcare and insurance in the recent election. (NOTE: Be sensitive to those who are diabetic and/or struggling with weight...