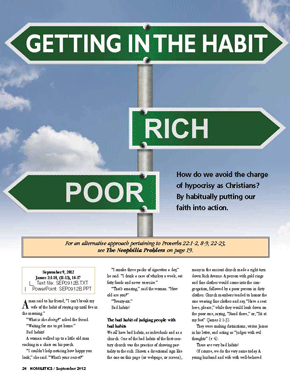 Getting in the Habit
Sunday, September 9, 2012
|
James 2:1-10, 11-13, 14-17
We're creatures of habit, and always will be. We need to be careful that our habits are good ones.
A man said to his friend, "I can't break my wife of the habit of staying up until five in the morning."

"What is she doing?" asked the friend.

"Waiting for me to get home."

Bad habits!

A woman walked up to a little old man rocking in a chair on his porch.

"I couldn't help noticing how happy you look," she said. "What's your secret?"

"I smoke three packs of cigarettes a day," he said. "I drink a case of whiskey a week, eat fatty foods and never exercise."

"That's amazing," said the woman. "How old are you?"

"Twenty-six."

Bad habits!

The bad habit of judging people with bad habits

We all have bad habits, as individuals and as a church. One of the bad habits of the first-century church was the practice of showing partiality to the rich. Shown a directional sign like the one on this page (or webpage, or screen), many in the ancient church made a right turn down Rich Avenue. A person with gold rings and fine clothes would come into the congregation, followed by a poor person in dirty clothes. Church ...