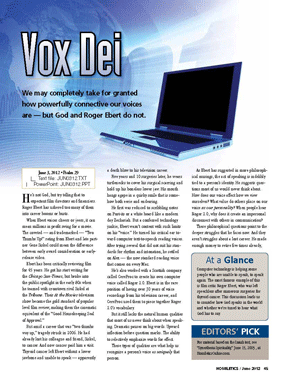 Vox Dei
Sunday, June 3, 2012
|
Psalm 29
If cancer takes away your ability to speak, technology may be able to help you, as in the case of film critic Roger Ebert. This raises the question again: How does God speak today?
He's not God, but try telling that to expectant film directors and financiers. Roger Ebert has ushered too many of them into career booms or busts.

When Ebert voices cheers or jeers, it can mean millions in profit swing for a movie. The coveted -- and trademarked -- "Two Thumbs Up!" rating from Ebert and late partner Gene Siskel could mean the difference between early award consideration or early-release video.

Ebert has been critically reviewing film for 45 years. He got his start writing for the Chicago Sun-Times, but broke into the public spotlight in the early 80s when he teamed with crosstown rival Siskel at the Tribune. Their At the Movies television show became the gold standard of popular level film review, making them the cinematic equivalent of the "Good Housekeeping Seal of Approval."

But amid a career that was "two thumbs way up," tragedy struck in 2006. He had already lost his colleague and friend, Siskel, to cancer. And now cancer paid him a visit. Thyroid cancer left Ebert ...
---
Start today. Cancel anytime.
Act now and, for just $6.99 a month or $69.95 a year, you'll receive a full year of this valuable, sermon preparation resource.
Our convenient, continuous-subscription program ensures you'll never miss out on the inspiration you need, when you need it.
You're never obligated to continue. Naturally, you may cancel at any time for any reason, no questions asked.