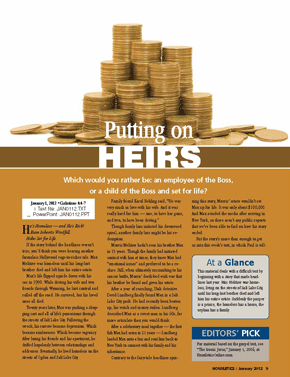 Putting on Heirs
Sunday, January 1, 2012
|
Galatians 4:4-7
Max Melitzer was homeless, living on the streets of Salt Lake City until his long-lost brother died and left him his entire estate. Suddenly, the pauper is a prince.
He's Homeless -- and He's Rich!
Bum Inherits Windfall.
Hobo Set for Life.

If the story behind the headlines weren't true, you'd think you were hearing another formulaic Hollywood rags-to-riches tale. Max Melitzer was homeless until his long-lost brother died and left him his entire estate.

Max's life flipped upside down with his car in 1990. While driving his wife and two friends through Wyoming, he lost control and rolled off the road. He survived, but his loved ones all died.

Twenty years later, Max was pushing a shopping cart and all of life's possessions through the streets of Salt Lake City. Following the wreck, his sorrow became depression. Which became aimlessness. Which became vagrancy. After losing his friends and his apartment, he drifted hopelessly between relationships and addresses. Eventually, he lived homeless on the streets of Ogden and Salt Lake City.

Family friend Karol Behling said, "He was very much in love with his wife. And it was really hard for him -- one, to have...
---
Start today. Cancel anytime.
Act now and, for just $6.99 a month or $69.95 a year, you'll receive a full year of this valuable, sermon preparation resource.
Our convenient, continuous-subscription program ensures you'll never miss out on the inspiration you need, when you need it.
You're never obligated to continue. Naturally, you may cancel at any time for any reason, no questions asked.