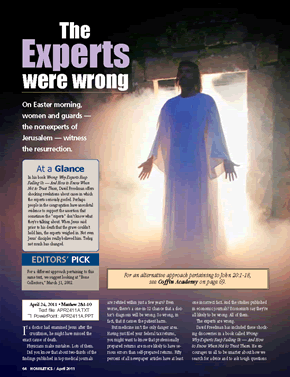 The Experts were wrong
Sunday, April 24, 2011
|
Matthew 28:1-10
A recently published book details alarming accounts of when the experts didn't have a clue.

If a doctor had examined Jesus after the crucifixion, he might have missed the exact cause of death.

Physicians make mistakes. Lots of them.

Did you know that about two-thirds of the findings published in top medical journals are refuted within just a few years? Even worse, there's a one-in-12 chance that a doctor's diagnosis will be wrong. So wrong, in fact, that it causes the patient harm.

But medicine isn't the only danger area. Having just filed your federal tax returns, you might want to know that professionally prepared returns are more likely to have serious errors than self-prepared returns. Fifty percent of all newspaper articles have at least one incorrect fact. And the studies published in economic journals? Economists say they're all likely to be wrong. All of them.

The experts are wrong.

David Freedman has included these shocking discoveries in a book called Wrong: Why Experts Keep Failing Us — And How to Know When Not to Trust Them. He encourages ...
---
Start today. Cancel anytime.
Act now and, for just $6.99 a month or $69.95 a year, you'll receive a full year of this valuable, sermon preparation resource.
Our convenient, continuous-subscription program ensures you'll never miss out on the inspiration you need, when you need it.
You're never obligated to continue. Naturally, you may cancel at any time for any reason, no questions asked.