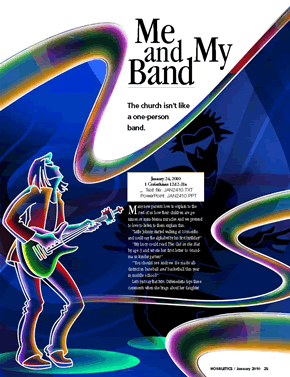 Me and My Band
Sunday, January 24, 2010
|
1 Corinthians 12:12-31a
Kaitlyn DiBenedetto is a kid who can do it all. She's in a band in which she sings and plays all the musical instruments. How does that work?

Many new parents love to explain to the rest of us how their children are geniuses or mini-Mensa miracles And we pretend to love to listen to them explain this.

"Little Johnny started walking at 10 months and could say the alphabet by his first birthday!"

"My Lucy could read The Cat in the Hat by age 3 and wrote her first letter to Grandma in kindergarten!"

"You should see Andrew. He made all-district in baseball and basketball this year in middle school!"

Let's just say that Mrs. DiBenedetto tops these comments when she brags about her daughter Kaitlyn. The youngster taught herself the drums at age 5 and picked up the guitar by 11. After playing supporting instrumental roles with a number of local New Jersey rock acts, she broke off on her own at 16 to form the band Just Kait.

Just Kait is a band featuring, well, just Kait. She literally plays and records every instrument — drums, bass and guitar — and lays down her own vocal tracks as well. As a 17-year-old high-school senior, Kait...
---
Start today. Cancel anytime.
Act now and, for just $6.99 a month or $69.95 a year, you'll receive a full year of this valuable, sermon preparation resource.
Our convenient, continuous-subscription program ensures you'll never miss out on the inspiration you need, when you need it.
You're never obligated to continue. Naturally, you may cancel at any time for any reason, no questions asked.