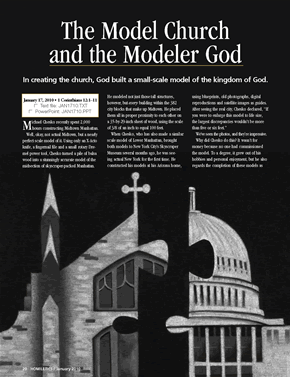 The Model Church and the Modeler God
Sunday, January 17, 2010
|
1 Corinthians 12:1-11
Michael Chesko builds model cities, and his models are used to study urban planning.

Michael Chesko recently spent 2,000 hours constructing Midtown Manhattan.

Well, okay, not actual Midtown, but a nearly perfect scale model of it. Using only an X-Acto knife, a fingernail file and a small rotary Dremel power tool, Chesko turned a pile of balsa wood into a stunningly accurate model of the midsection of skyscraper-packed Manhattan. He modeled not just those tall structures, however, but every building within the 382 city blocks that make up Midtown. He placed them all in proper proximity to each other on a 35-by-29-inch sheet of wood, using the scale of 3/8 of an inch to equal 100 feet.

When Chesko, who has also made a similar scale model of Lower Manhattan, brought both models to New York City's Skyscraper Museum several months ago, he was seeing actual New York for the first time. He constructed his models at his Arizona home, using blueprints, old photographs, digital reproductions and satellite images as guides. After seeing the real city, Chesko declared, "If you...