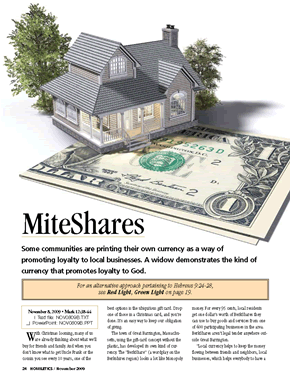 MiteShares
Sunday, November 8, 2009
|
Mark 12:38 44
More than one community in these hard economic times is minting its own money. What the widow gave, however, was real, legal and all she had.
With Christmas looming, many of us are already thinking about what we'll buy for friends and family. And when you don't know what to get Uncle Frank or the cousin you see every 10 years, one of the best options is the ubiquitous gift card. Drop one of those in a Christmas card, and you're done. It's an easy way to keep our obligation of giving.

The town of Great Barrington, Massachusetts, using the gift-card concept without the plastic, has developed its own kind of currency. The "BerkShare" (a wordplay on the Berkshires region) looks a lot like Monopoly money. For every 95 cents, local residents get one dollar's worth of BerkShares they can use to buy goods and services from one of 400 participating businesses in the area. BerkShares aren't legal tender anywhere outside Great Barrington.

"Local currency helps to keep the money flowing between friends and neighbors, local businesses, which helps everybody to have a better life," says Asa Hardcastle, president of BerkShares Inc.

Matt...
---
Start today. Cancel anytime.
Act now and, for just $6.99 a month or $69.95 a year, you'll receive a full year of this valuable, sermon preparation resource.
Our convenient, continuous-subscription program ensures you'll never miss out on the inspiration you need, when you need it.
You're never obligated to continue. Naturally, you may cancel at any time for any reason, no questions asked.