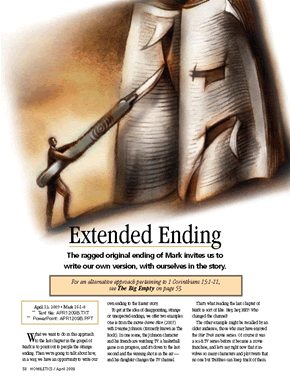 Extended Ending
Sunday, April 12, 2009
|
Mark 16:1-8
The gospel of Mark concludes at chapter 16 — with not just one, but perhaps two alternative endings. It's a metaphor for Easter, in that the resurrection helps us write out a new ending and beginning for our own lives.

What we want to do in this approach to the last chapter in the gospel of Mark is to point out to people the strange ending. Then we're going to talk about how, in a way, we have an opportunity to write our own ending to the Easter story.

To get at the idea of disappointing, strange or unexpected endings, we offer two examples: One is from the movie Game Plan (2007) with Dwayne Johnson (formerly known as The Rock). In one scene, the Johnson character and his friends are watching TV. A basketball game is in progress, and it's down to the last second and the winning shot is in the air — and his daughter changes the TV channel.

That's what reading the last chapter of Mark is sort of like. Hey, hey, HEY! Who changed the channel?

The other example might be recalled by an older audience, those who may have enjoyed the Star Trek movie series. Of course it was a sci-fi TV series before it became a movie franchise, and let's say right now that it involves so many...
---
Start today. Cancel anytime.
Act now and, for just $6.99 a month or $69.95 a year, you'll receive a full year of this valuable, sermon preparation resource.
Our convenient, continuous-subscription program ensures you'll never miss out on the inspiration you need, when you need it.
You're never obligated to continue. Naturally, you may cancel at any time for any reason, no questions asked.