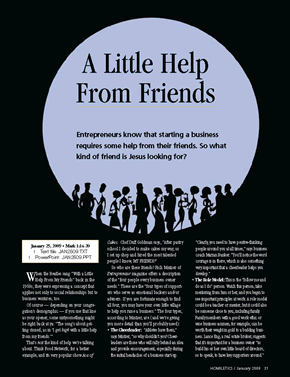 A Little Help From Friends
Sunday, January 25, 2009
|
Mark 1:14-20
If you're a business owner, says Rich Mintzer of Entrepreneur magazine, there are four types of friends you're going to need.
When the Beatles sang "With a Little Help From My Friends" back in the 1960s, they were expressing a concept that applies not only to social relationships but to business ventures, too.

Of course — depending on your congregation's demographic — if you use that line as your opener, some sixtysomething might be right back at ya: "The song's about getting stoned, as in 'I get high with a little help from my friends.'"

That's not the kind of help we're talking about. Think Food Network, for a better example, and its very popular show Ace of Cakes. Chef Duff Goldman says, "After pastry school I decided to make cakes my way, so I set up shop and hired the most talented people I know, MY FRIENDS!"

So who are these friends? Rich Mintzer of Entrepreneur magazine offers a description of the "four people every business owner needs." These are the "four types of supporters who serve as emotional backers and/or advisers. If you are fortunate enough to find all four, you may have your own little...
---
Start today. Cancel anytime.
Act now and, for just $6.99 a month or $69.95 a year, you'll receive a full year of this valuable, sermon preparation resource.
Our convenient, continuous-subscription program ensures you'll never miss out on the inspiration you need, when you need it.
You're never obligated to continue. Naturally, you may cancel at any time for any reason, no questions asked.