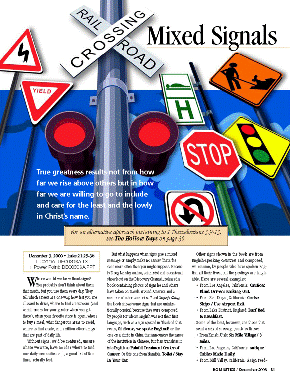 Mixed Signals
Sunday, December 3, 2006
|
Luke 21:25-36
It can sometimes be hard to read the signs of the times, especially when they're sending mixed messages.

Where would we be without signs?

You probably don't think about them that much, but you use them every day. They tell which streets are one-way, how fast you are allowed to drive, where to find a restroom (and which one is for your gender when you get there), when your favorite store is open, where to buy a meal, what dangerous areas to avoid, where to find a sale, and a zillion other things that are part of daily life.

Without signs, we'd be confused, unsure where we were, have no idea where to find our daily necessities and, a good bit of the time, actually lost.

But what happens when signs give a mixed message or simply make no sense? That's the case more often than you might suppose. Recently Doug Lansky, author, columnist and occasional show host on the Discovery Channel, released a book containing photos of signs he and others have taken on travels around America and a number of other countries. Titled Signspotting, the book shows some signs that are...