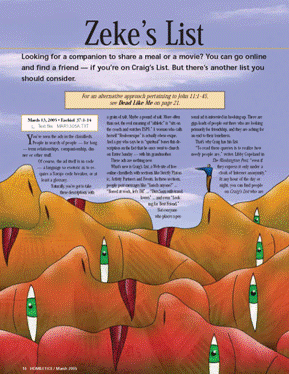 Zeke's List
Sunday, March 13, 2005
|
Ezekiel 37:1-14
Need a friend at the last minute? Just for bowling or a movie. That's all. There's a Web site for you. But you have to get on the list.
You've seen the ads in the classifieds.

People in search of people — for long — term relationships, companionship, dinner or other stuff.

Of course, the ad itself is in code — a language so esoteric as to require a Navajo code breaker, or at least a glossary.

Naturally, you've got to take these descriptions with a grain of salt. Maybe a pound of salt. More often than not, the real meaning of "athletic" is "sits on the couch and watches ESPN." A woman who calls herself "Reubenesque" is actually obese-esque. And a guy who says he is "spiritual" bases this description on the fact that he once went to church on Easter Sunday — with his grandmother.

These ads are nothing new.

What's new is Craig's List, a Web site of free online classifieds with sections like Strictly Platonic, Activity Partners and Events. In these sections, people post messages like "Lunch anyone?" ... "Bored at work, let's IM" ... "Dim Sum with travel lovers" ... and even "Looking for Best Friend."

Not...
---
Start today. Cancel anytime.
Act now and, for just $6.99 a month or $69.95 a year, you'll receive a full year of this valuable, sermon preparation resource.
Our convenient, continuous-subscription program ensures you'll never miss out on the inspiration you need, when you need it.
You're never obligated to continue. Naturally, you may cancel at any time for any reason, no questions asked.