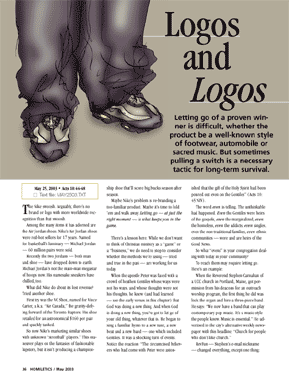 Logos and Logos
Sunday, May 25, 2003
|
Acts 10:44-48
When Nike produced its Air Jordan shoes, they were such a success that it didn't seem possible that someday, the product could lose its luster. But, in fact, that's precisely what happened, and the company had a hard time letting go of a past winner. The apostle Peter, too, had a hard time letting go and is given a multimedia demonstration of what God has planned for the future.
The Nike swoosh. Arguably, there's no brand or logo with more worldwide recognition than that swoosh.

Among the many items it has adorned are the Air Jordan shoes. Nike's Air Jordan shoes were red-hot sellers for 17 years. Named for basketball's luminary — Michael Jordan — 60 million pairs were sold.

Recently the two Jordans — both man and shoe — have dropped down to earth. Michael Jordan's not the main-man megastar of hoops now. His namesake sneakers have chilled, too.

What did Nike do about its lost revenue? Tried another shoe.

First try was the VC Shox, named for Vince Carter, a.k.a. "Air Canada," the gravity-defying forward of the Toronto Raptors. His shoe retailed for an astronomical $160 per pair and quickly tanked.

So now Nike's marketing similar shoes with unknown "streetball' players." This maneuver plays on the fantasies of fashionable hipsters, but it isn't producing a championship shoe that'll score big bucks season after season.

Maybe Nike's problem is re-branding a...
---
Start today. Cancel anytime.
Act now and, for just $6.99 a month or $69.95 a year, you'll receive a full year of this valuable, sermon preparation resource.
Our convenient, continuous-subscription program ensures you'll never miss out on the inspiration you need, when you need it.
You're never obligated to continue. Naturally, you may cancel at any time for any reason, no questions asked.