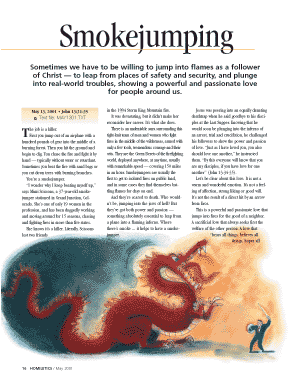 Smokejumping
Sunday, May 13, 2001
|
John 13:31-35
In the next three months, courageous men and women will be putting out fires from Maine to Southern California and points in between. At times, Jesus calls us to leap into the flames, and when he does, it's gonna take some smokejumpin' love to pull it off.
The job is a killer.


First you jump out of an airplane with a hundred pounds of gear into the middle of a burning forest. Then you hit the ground and begin to dig. You chase the fire and fight it by hand — typically without water or retardant. Sometimes you beat the fire with sand bags or you cut down trees with burning branches.


You're a smokejumper.


"I wonder why I keep beating myself up," says Mimi Scissons, a 37-year-old smokejumper stationed in Grand Junction, Colorado. She's one of only 19 women in the profession, and has been doggedly working and moving around for 15 seasons, chasing and fighting fires in more than five states.


She knows it's a killer. Literally. Scissons lost two friends in the 1994 Storm King Mountain fire. It was devastating, but it didn't make her reconsider her career. It's what she does.


There is an undeniable aura surrounding this tight-knit team of men and women who fight fires in the middle of the wilderness, armed with only a few tools, tremendous...
---
Start today. Cancel anytime.
Act now and, for just $6.99 a month or $69.95 a year, you'll receive a full year of this valuable, sermon preparation resource.
Our convenient, continuous-subscription program ensures you'll never miss out on the inspiration you need, when you need it.
You're never obligated to continue. Naturally, you may cancel at any time for any reason, no questions asked.