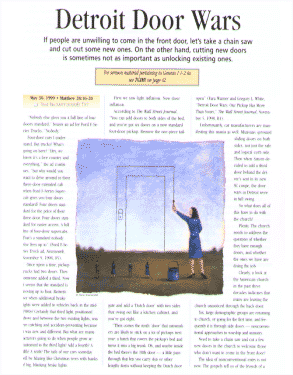 Detroit Door Wars
Sunday, May 30, 1999
|
Matthew 28:16-20
Detroit is desperate for new ideas to get people into their cars. The Saturn sedan now touts a third, reverse-opening back door; and asks in its commercials "Why didn't anyone think of this before?" The church's mandate is clear: If people are unwilling to come in the front door, let's unlock the side door, or take a chain saw and cut out some new ones.

"Nobody else gives you a full line of four doors standard," boasts an ad for Ford F-Series Trucks. "Nobody."

Four-door cars I understand. But trucks? What's going on here? "Hey, we know it's a free country and everything," the ad continues, "but why would you want to drive around in their three-door extended cab when Ford F-Series Supercab gives you four doors standard? Four doors standard for the price of their three-door. Four doors standard for easier access. A full line of four-door supercabs. That's a standard nobody else lives up to" (Ford F-Series Truck ad, Newsweek, November 9, 1998, 85).
Once upon a time, pickup trucks had two doors. Then someone added a third. Now it seems that the standard is moving up to four. Remember when additional brake lights were added to vehicles back in the mid-1980s? Certainly that third light, positioned above and between the two existing lights, was eye-catching and accident-preventing because it was new and different. But what are...
---
Start today. Cancel anytime.
Act now and, for just $6.99 a month or $69.95 a year, you'll receive a full year of this valuable, sermon preparation resource.
Our convenient, continuous-subscription program ensures you'll never miss out on the inspiration you need, when you need it.
You're never obligated to continue. Naturally, you may cancel at any time for any reason, no questions asked.