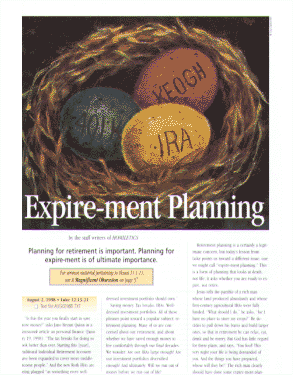 Expire-ment Planning
Sunday, August 2, 1998
|
Luke 12:13-21
Retirement planning is certainly a legitimate concern, but have we done any planning for life after retirement
"Is this the year you finally start to save more money?" asks Jane Bryant Quinn in a Newsweek article on personal finance (January 19, 1998). "The tax breaks for doing so look better than ever. Starting this [year], traditional Individual Retirement Accounts have been expanded to cover more middle-income people." And the new Roth IRAs are being plugged "as something every well-dressed investment portfolio should own."

Saving money. Tax breaks. IRAs. Well-dressed investment portfolios. All of these phrases point toward a popular subject: retirement planning. Many of us are concerned about our retirement, and about whether we have saved enough money to live comfortably through our final decades. We wonder: Are our IRAs large enough? Are our investment portfolios diversified enough? And ultimately: Will we run out of money before we run out of life?

Retirement planning is a certainly a legitimate concern, but today's lesson from Luke points us toward a different issue: one we might...
---
Start today. Cancel anytime.
Act now and, for just $6.99 a month or $69.95 a year, you'll receive a full year of this valuable, sermon preparation resource.
Our convenient, continuous-subscription program ensures you'll never miss out on the inspiration you need, when you need it.
You're never obligated to continue. Naturally, you may cancel at any time for any reason, no questions asked.