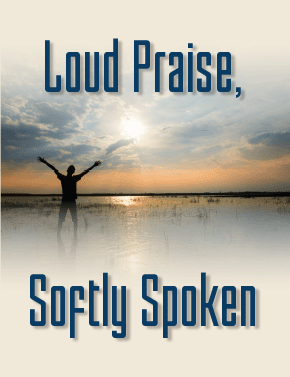 Loud Praise, Softly Spoken
Sunday, December 26, 2021
|
Psalm 148
How often do you want to enlist all of nature and everyone in it to join you in praising the Lord, especially when life becomes downright discouraging?
Psalm 148 is Holy Scripture, but chances are it doesn't fit many occasions in your life.
The heading above Psalm 148 in the NRSV says its subject is "Praise for God's Universal Glory." The NASB's heading is even more explicit: "The Whole Creation Invoked to Praise the Lord." And that's exactly what Psalm 148 does: It calls upon the sun, moon, stars, mountains, hills, trees, fire, hail, snow, frost, wild and domestic animals, and even sea monsters and angels to join with all people everywhere in expressing high praise for the Lord.
But really, when was the last time something in your life made you want to enlist all nature and everyone everywhere to join you in lauding the Lord loudly? Hopefully there have been a few such times — perhaps with the birth of a child or grandchild, or maybe when you got a good prognosis following treatment for a serious illness — but life is pretty prosaic for most of us most of the time. And...