A Psalm for Slippery Slopes Psalm 121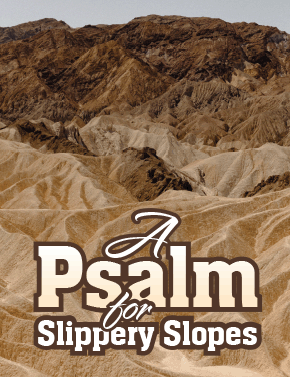 When we find ourselves on slippery slopes, we should not fear, but instead look for God's leading.
AT A GLANCE:
Creative writing classes and books about writing stress the importance of setting or a sense of place. Psalm 121 cannot be understood without consideration of the setting. A sense of place is the dominant theme for a writer who looks to the hills and wonders where he's going to find his salvation.
EDITOR'S PICK:
For material based on today's gospel text, see "Bleed Time," February 24, 2002.
If you're writing a novel, you know that point of view, plot and characters are all integral aspects of your work.
But you also know that setting or sense of place cannot be ignored. It's critical. Where does the story take place? As the novelist, you have to help the reader feel it, see it and experience it.
So when going to the text before us today, we cannot ignore the "place" or the setting of this text, Psalm 121.
Let's detour for a sec and look at the concept of "place," and then we...
Start your risk free trial to view the entire installment!
START YOUR RISK-FREE TRIAL
---