Reversible Errors John 18:1-19:42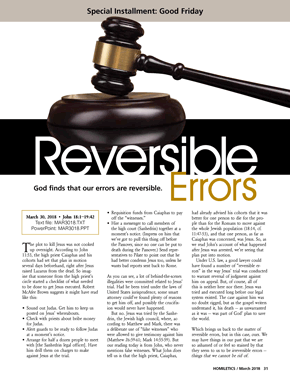 Special Installment: Good Friday

God finds that our errors are reversible.
At a Glance

Were Jesus' trial to occur today, even a mediocre attorney could get his guilty verdict overturned on the basis of "reversible errors" alone. What about the errors in our own lives that we think are irreversible? Can we get those overturned?


Editors' Pick

For material based on today's Psalm text, see "Bad Friday," March 25, 2016, at HomileticsOnline.com.


The plot to kill Jesus was not cooked up overnight. According to John 11:53, the high priest Caiaphas and his cohorts had set that plan in motion several days beforehand, right after Jesus raised Lazarus from the dead. So imagine that someone from the high priest's circle started a checklist of what needed to be done to get Jesus executed. Robert McAfee Brown suggests it might have read like this:

+ Sound out Judas. Get him to keep us posted on Jesus' whereabouts.

+ Check with priests about bribe money for Judas.

+ Alert guards to be ready to follow Judas at a moment's notice.

+ Arrange for half a dozen people to meet with [the ...
Start your risk free trial to view the entire installment!
START YOUR RISK-FREE TRIAL
---