The Devil's Clickbait Matthew 4:1-11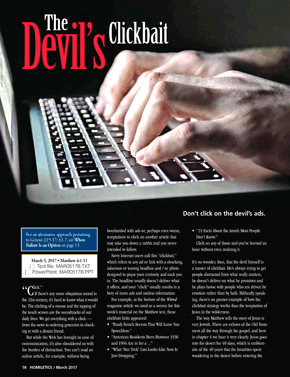 Don't click on the devil's ads.
At a Glance

Online advertisers like to lure us by posting sensational, salacious and seductive images and headlines that tempt us to click on them. It's called "clickbait," and it's a real distraction from reality. Jesus was tempted with a similar form of clickbait by the devil himself. The way he refused to click on it can teach us a lot about dealing with temptation in our own lives.


Editors' Pick

For material based on today's epistle text, see "Plaque Buildup," February 25, 1996, at HomileticsOnline.com.


"Click."

If there's any more ubiquitous sound in the 21st century, it's hard to know what it would be. The clicking of a mouse and the tapping of the touch screen are the soundtracks of our daily lives. We get everything with a click -- from the news to ordering groceries to checking in with a distant friend.

But while the Web has brought us ease of communication, it's also shouldered us with the burden of distraction. You can't read an online article, for example, without being...
Start your risk free trial to view the entire installment!
START YOUR RISK-FREE TRIAL
---