Jesus' Stretch Goals Matthew 5:21-37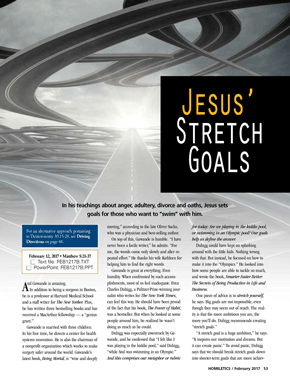 In his teachings about anger, adultery, divorce and oaths, Jesus sets goals for those who want to "swim" with him.


At a Glance

In his book, Smarter Faster Better: The Secrets of Being Productive in Life and Business, Charles Duhigg discusses high achievers who seem to be able to do just about everything. Some people are like that! What makes them so successful? Duhigg, comparing his own life to theirs, says he felt as though he was splashing about in a kiddie pool, while the others were swimming in an Olympic pool. In today's text, Jesus also compares the kiddie pool and the Olympic pool.


Editors' Pick

For material based on today's epistle text, see "The SAHD Apostle," February 13, 2011, at HomileticsOnline.com.


Atul Gawande is amazing.

In addition to being a surgeon in Boston, he is a professor at Harvard Medical School and a staff writer for The New Yorker. Plus, he has written three bestselling books and has received a MacArthur fellowship -- a "genius grant."

Gawande is married with three children. In his free time, he directs a center for health systems innovation. He is...
Start your risk free trial to view the entire installment!
START YOUR RISK-FREE TRIAL
---