The Run-Flat Church 1 Corinthians 1:10-18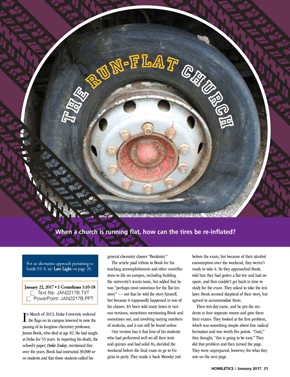 When a church is running flat, how can the tires be re-inflated?

At a Glance

Many new cars these days don't have spares -- in part to save money, but especially to reduce vehicle weight to help meet increasingly tightened federal mileage standards. So, instead of a spare, your new car is likely to have either a tire repair kit with sealant and plug-in compressor to re-inflate tires or the even better option: run-flat tires. In today's epistle reading, we discover that the Corinthian church has a serious tire problem.


Editors' Pick

For material based on today's gospel text, see "Presenting the Fly," January 27, 2002, at HomileticsOnline.com.


In March of 2013, Duke University ordered the flags on its campus lowered to note the passing of its longtime chemistry professor, James Bonk, who died at age 82. He had taught at Duke for 53 years. In reporting his death, the school's paper, Duke Today, mentioned that over the years, Bonk had instructed 30,000 or so students and that those students called his general chemistry classes...
Start your risk free trial to view the entire installment!
START YOUR RISK-FREE TRIAL
---