The Love Haptic John 13:31-35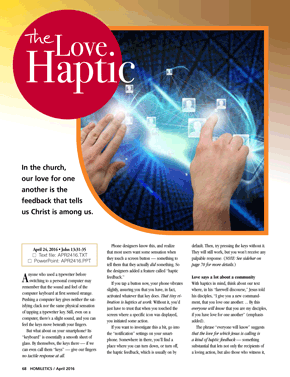 In the church, our love for one another is the feedback that tells us Christ is among us.

At a Glance

Some old-timers will remember using a typewriter -- manual or electric. The typing sensation was totally different than it is today as we tap away on a laptop or a smartphone keyboard. Smartphone designers have tried to incorporate something called "haptics" -- a technology that lets you know that you're tapping and poking. It provides a little buzz or vibration that gives you the sensation of doing something. Jesus (to get to our point) also provides a haptic -- something to let us know that we're making a difference.


Editors' Pick

For material based on today's epistle text, see "The Gospel Truth," May 10, 1998, at HomileticsOnline.com.


Anyone who used a typewriter before switching to a personal computer may remember that the sound and feel of the computer keyboard at first seemed strange. Pushing a computer key gives neither the satisfying clack nor the same physical sensation of tapping a typewriter key. Still, even on a computer, there's a slight...
Start your risk free trial to view the entire installment!
START YOUR RISK-FREE TRIAL
---