No Zombie Jesus Revelation 1:4-8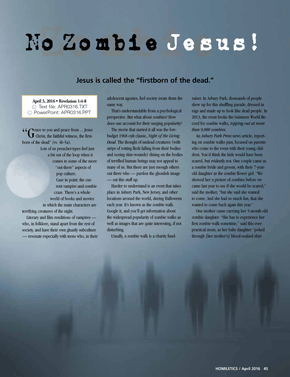 Jesus is called the "firstborn of the dead."
At a Glance

Many cities have an annual zombie walk. Often it is at Halloween. Usually, it is a fundraiser of some kind. Still, it can be unnerving to see thousands of zombies staggering through one's neighborhood. We bring this up, because today's text in Revelation has some zombie-like language: "firstborn of the dead."


Editors' Pick

For material based on today's gospel text, see "Binky Belief," April 18, 2004, at HomileticsOnline.com.


"Grace to you and peace from ... Jesus Christ, the faithful witness, the firstborn of the dead" (vv. 4b-5a).

Lots of us preacher-types feel just a bit out of the loop when it comes to some of the more "out-there" aspects of pop culture.

Case in point: the current vampire-and-zombie craze. There's a whole world of books and movies in which the main characters are terrifying creatures of the night.

Literary and film renditions of vampires -- who, in folklore, stand apart from the rest of society, and have their own ghastly subculture -- resonate...
Start your risk free trial to view the entire installment!
START YOUR RISK-FREE TRIAL
---