The Norm of Jesus Devotion John 12:1-8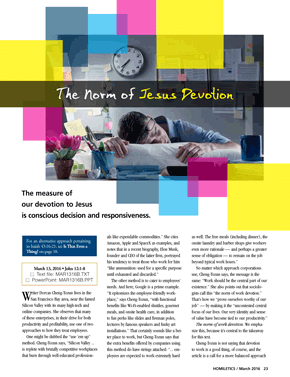 The measure of our devotion to Jesus is conscious decision and responsiveness.

At a Glance

When someone works hard at a job -- willing to work after hours, willing to take their work home with them, willing to go in to the office early and stay late -- we say that this person has what some sociologists call "job devotion." Many employers expect their employees to have job devotion. It should be the norm, as far as they are concerned. What does Jesus expect about our devotion? Perhaps Mary provides a clue.


Editors' Pick

For material based on today's epistle text, see "Limping to the Line," March 21, 2010, at HomileticsOnline.com.


Writer Dorcas Cheng-Tozun lives in the San Francisco Bay area, near the famed Silicon Valley with its many high-tech and online companies. She observes that many of these enterprises, in their drive for both productivity and profitability, use one of two approaches to how they treat employees.

One might be dubbed the "use 'em up" method. Cheng-Tozun says, "Silicon Valley ... is replete with brutally...
Start your risk free trial to view the entire installment!
START YOUR RISK-FREE TRIAL
---