Jesus -- the Face of the Good News Luke 9:28-36 (37-43)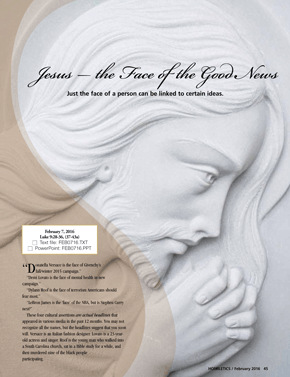 Just the face of a person can be linked to certain ideas.

At a Glance

Some cultural icons have faces that speak for themselves. Einstein? Intelligence. Genius. Science. Bad hair days. Leonardo da Vinci? Art. The Renaissance. Inventions. You get the idea. So what do we think about when we see a rendition of Moses' face. Or Elijah's. Or the face of Jesus?


Editors' Pick

For material based on today's OT text, see "Getting the Face We Deserve," March 1, 1992, at HomileticsOnline.com.


"Donatella Versace is the face of Givenchy's fall/winter 2015 campaign."

"Demi Lovato is the face of mental health in new campaign."

"Dylann Roof is the face of terrorism Americans should fear most."

"LeBron James is the 'face' of the NBA, but is Stephen Curry next?"

These four cultural assertions are actual headlines that appeared in various media in the past 12 months. You may not recognize all the names, but the headlines suggest that you soon will. Versace is an Italian fashion designer. Lovato is a 23-year-old...
Start your risk free trial to view the entire installment!
START YOUR RISK-FREE TRIAL
---