The Upside of Giving Up Matthew 21:23-32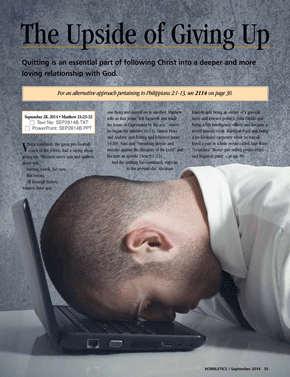 Quitting is an essential part of following Christ into a deeper and more loving relationship with God.
At a Glance

"Winners never quit and quitters never win." Vince Lombardi of football immortality may have been referring to the importance of perseverance. On the face of it, however, he had it wrong. Sometimes, the right thing to do is quit.


Editors' Pick

For material based on today's OT text, see "Crowd Control," February 27, 2005, at HomileticsOnline.com.


Vince Lombardi, the great pro football coach of the 1960s, had a saying about giving up: "Winners never quit and quitters never win."

Stirring words, for sure.

But wrong.

All through history, winners have quit one thing and moved on to another. Matthew tells us that Jesus "left Nazareth and made his home in Capernaum by the sea," where he began his ministry (4:13). Simon Peter and Andrew quit fishing and followed Jesus (4:20). Saul quit "breathing threats and murder against the disciples of the Lord" and became an apostle (Acts 9:1-22).

And the quitting has continued, right up to...
Start your risk free trial to view the entire installment!
START YOUR RISK-FREE TRIAL
---