Joseph's Humblebrag Genesis 45:1-15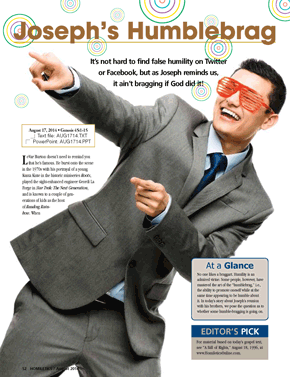 It's not hard to find false humility on Twitter or Facebook, but as Joseph reminds us, it ain't bragging if God did it!
At a Glance

No one likes a braggart. Humility is an admired virtue. Some people, however, have mastered the art of the "humblebrag," i.e., the ability to promote oneself while at the same time appearing to be humble about it. In today's story about Joseph's reunion with his brothers, we pose the question as to whether some humble-bragging is going on.


Editors' Pick

For material based on today's gospel text, see "A Bill of Rights," August 18, 1996, at www.HomileticsOnline.com.


LeVar Burton doesn't need to remind you that he's famous. He burst onto the scene in the 1970s with his portrayal of a young Kunta Kinte in the historic miniseries Roots, played the sight-enhanced engineer Geordi La Forge in Star Trek: The Next Generation, and is known to a couple of generations of kids as the host of Reading Rainbow. When you're that famous, however, you can't help but subtly remind people that you're kind of a big deal, and social media like Twitter has proven to be a great...
Start your risk free trial to view the entire installment!
START YOUR RISK-FREE TRIAL
---