Jesus Bread Matthew 14:13-21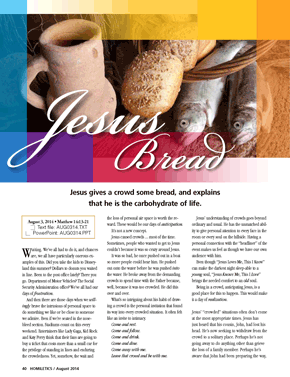 Jesus gives a crowd some bread, and explains that he is the carbohydrate of life.
At a Glance

We begin with a discussion of waiting in crowds. These wait times can be waiting periods of frustration, anticipation or realization. Then we move to how Jesus approaches a situation in which the waiting crowd had become a needy crowd. How will Jesus respond?


Editors' Pick

For material based on today's OT text, see "Pain at Peniel," August 4, 2002, at HomileticsOnline.com


Waiting. We've all had to do it, and chances are, we all have particularly onerous examples of this. Did you take the kids to Disneyland this summer? Dollars to donuts you waited in line. Been to the post office lately? There you go. Department of Motor Vehicles? The Social Security Administration office? We've all had our days of frustration.

And then there are those days when we willingly brave the intrusions of personal space to do something we like or be close to someone we admire. Even if we're seated in the nosebleed section. Stadiums count on this every weekend. Entertainers like Lady Gaga,...
Start your risk free trial to view the entire installment!
START YOUR RISK-FREE TRIAL
---