Body Parts 1 Corinthians 12:3b-13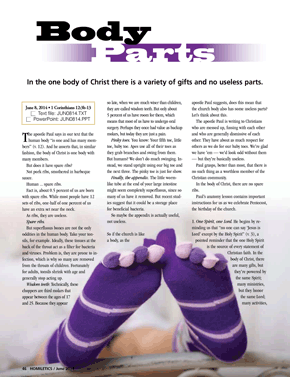 In the one body of Christ there is a variety of gifts and no useless parts.
At a Glance

The human body is a marvelous thing. No doubt about it. But let's face it: some parts of our anatomy are pretty useless, right? Like, who really needs those wisdom teeth? The appendix? Pull it out! The little pinky toe? Great for chimpanzees, but not much particular use for human beings -- except we'd really look weird without one when we're wearing flip-flops. So maybe the apostle Paul's analogy for the church as a human body isn't such a great analogy after all. Well, let's take a look.


Editors' Pick

Homiletics has dealt with today's Acts 2 text many times. See "Bug Buildup," May 19, 2002, at HomileticsOnline.com.


The apostle Paul says in our text that the human body "is one and has many members" (v. 12). And he asserts that, in similar fashion, the body of Christ is one body with many members.

But does it have spare ribs?

Not pork ribs, smothered in barbecue sauce.

Human ... spare ribs.

Fact is, about 0.5 percent of us are born with spare ribs. While...
Start your risk free trial to view the entire installment!
START YOUR RISK-FREE TRIAL
---