Wild John and Homeless Jesus Matthew 3:1-12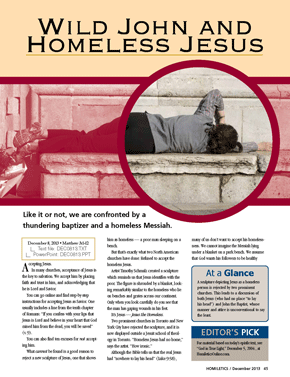 Like it or not, we are confronted by a thundering baptizer and a homeless Messiah.
At a Glance

A sculpture depicting Jesus as a homeless person is rejected by two prominent churches. This leads to a discussion of both Jesus (who had no place "to lay his head") and John the Baptist, whose manner and attire is unconventional to say the least.


Editors' Pick

For material based on today's epistle text, see "God in True Light," December 5, 2004 , at HomileticsOnline.com.


Accepting Jesus.

In many churches, acceptance of Jesus is the key to salvation. We accept him by placing faith and trust in him, and acknowledging that he is Lord and Savior.

You can go online and find step-by-step instructions for accepting Jesus as Savior. One usually includes a line from the tenth chapter of Romans: "If you confess with your lips that Jesus is Lord and believe in your heart that God raised him from the dead, you will be saved" (v. 9).

You can also find ten excuses for not accepting him.

What cannot be found is a good reason to reject a new sculpture of Jesus, one that shows him as...
Start your risk free trial to view the entire installment!
START YOUR RISK-FREE TRIAL
---