Up a Tree Luke 19:1-10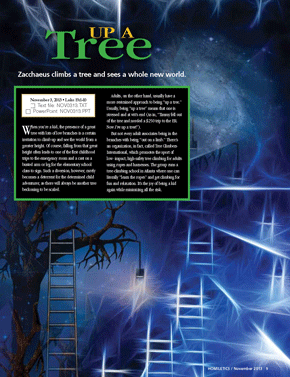 Zacchaeus climbs a tree and sees a whole new world.
At a Glance

Ever climb a tree when you were a kid? Tree Climbers International would like to help you regain the joy of inner child by helping you to reclaim your childhood tree-climbing adventures. This leads us naturally to our text where we encounter the patron saint of tree-climbers and tree-huggers, St. Zacchaeus. .


Editors' Pick

For material based on today's epistle text, see "Gait Analysis," October 31, 2004, at HomileticsOnline.com.


When you're a kid, the presence of a great tree with lots of low branches is a certain invitation to climb up and see the world from a greater height. Of course, falling from that great height often leads to one of the first childhood trips to the emergency room and a cast on a busted arm or leg for the elementary school class to sign. Such a diversion, however, rarely becomes a deterrent for the determined child adventurer, as there will always be another tree beckoning to be scaled.

Adults, on the other hand, usually have a more...
Start your risk free trial to view the entire installment!
START YOUR RISK-FREE TRIAL
---